Get on the road faster with
Motorcycle Financing

from MotorcycleLender™.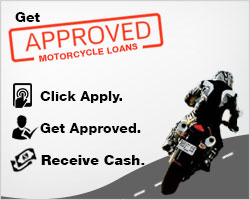 Ready to go for a Sunday bike ride? Getting the wrong financing for your motorcycle may lead you to a dead end, as some lenders put heavy restrictions on motorcycle loans, leaving your dreams in the dust. MotorcycleLender™ offers you easy access to unsecured loans for all makes of motorcycle. You can even finance chrome to make it go faster!
Whether you're looking to buy a new motorcycle or a used motorcycle, to fund the building of a custom ride, or just to finance an antique or classic motorcycle's restoration - MotorcycleLender™ allows you to purchase the bike you want, customize it the way you want, and then ride it the way you want - by providing the financing that you're going to need.
We make online motorcycle financing simple, through unsecured loans that deliver cash directly to your bank account. Finally, a bike loan with no collateral and no limitations on what you can do with it - perfect for those who love freedom!